OIST Graduation Ceremony 2017
The Okinawa Institute of Science and Technology Graduate University (OIST) held its first graduation ceremony on 24th February 2018, demonstrating to the world that in just six years, Japan had established on Okinawa an outstanding new university for world-class international science research and education.
The Commencement Speech was given by Dr. Steven Chu, Nobel Laureate and former United States Secretary of Energy. Five hundred people attended the ceremony in the OIST auditorium, each personally invited as a representative of Japanese and international academia, industry, and government.
Special tribute was paid to people who made major contributions to the founding and establishment of the university.
Links
---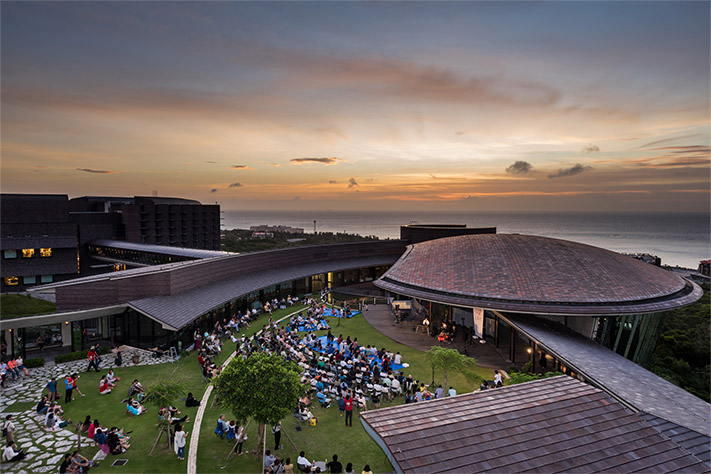 The University
OIST is international, with over 50 nationalities working onsite. Over 60% of faculty come from outside Japan, and the working language is English. OIST produces highly trained young scientists who are completely at ease in the global environment of science and industry.
OIST is committed to interdisciplinary research. The university encourages faculty, researchers, and students from diverse fields to share ideas, methods, and experience in collaborative initiatives that break through the restrictive barriers of traditional scientific disciplines.
To ensure that new research progress is readily applied in industry and high technology entrepreneurship, OIST works closely with the Okinawa Prefectural Government and industry to develop a self-sustaining, high technology economy on the island. Due to OIST, Okinawa is becoming recognized as a center for excellence in Science and Technology.
---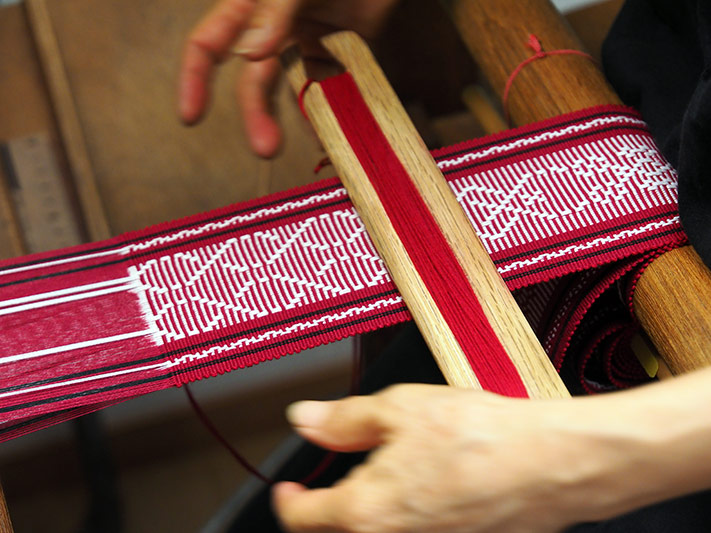 Academic Dress
Academic dress is part of a tradition spanning a thousand years of history, connecting us to the first universities in Europe. Originally the daily dress worn by students and professors alike, their use more recently has been restricted to formal occasions of the university.
The OIST academic dress was designed entirely by the students, and follows the red, white and black of the OIST colors. The hood, worn only by OIST PhD graduates, features a local textile, called Yuntanza Minsa using "Guushi-Bana" method, again in red, white and black. The design of the hood combines local auspicious patterns for luck in money and life, and stylized sine waves representing the sciences.
The hoods were generously hand-woven from locally hand-dyed cotton by Ms. Misae Gakiya from Yuntanza Hanaui, a craft weavers guild from Yomitan, and we thank them for their wonderful contribution.
Program
Saturday, 24th February 2018
OIST Auditorium
1:30 pm
2:00 pm
Musical Introduction and Academic Procession
2:10 pm
Welcome by President Peter Gruss, OIST Graduate University
Address by Special Guests
Commencement Address by Dr. Steven Chu, Stanford University
2:50 pm
3:10 pm
Conferment of Ph.D. Degrees
Awardees Introduced by Prof. Jeff Wickens, Dean of the Graduate School
4:10 pm
Speech by Dr. Caroline Starzynski, Graduating Student
4:20 pm
Speech by Dr. Cherry Murray, Chair of the OIST Board of Governors
4:30 pm
Musical Finale followed by Academic Procession
Commencement Speaker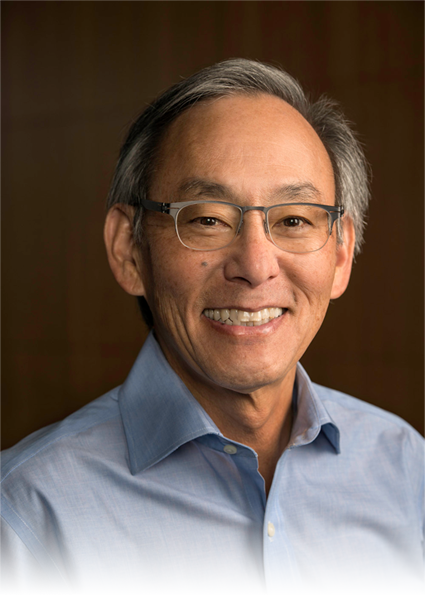 Steven Chu
Dr. Chu is a co-recipient of the 1997 Nobel Prize in Physics for his contributions to laser cooling and atom trapping. Currently the William R. Kenan Jr. Professor of Physics and Professor of Molecular and Cellular Physiology in the Medical School at Stanford University, Dr. Chu served as the 12th U.S. Secretary of Energy from January 2009 until the end of April 2013. Prior to this, he was director of the Lawrence Berkeley National Laboratory and Professor of Physics and Applied Physics at Stanford University.
Dr. Chu has a Ph.D. in Physics from the University of California, Berkeley, as well as 31 honorary degrees. He is a member of the National Academy of Sciences, the American Philosophical Society, the American Academy of Arts and Sciences, the Academia Sinica, the Royal Society, the Royal Academy of Engineering, the Chinese Academy of Sciences, and the Korean Academy of Sciences and Technology. He has been prolific both as academic and innovator, with over 280 published papers and 14 patents.
Speakers
Peter Gruss

President, OIST Graduate University

Cherry Murray

Chair of the OIST Board of Governors
Graduates
Mark Daly

Supervisor:
Professor Síle Nic Chormaic

Research Unit:
Light-Matter Interactions Unit

Thesis:
Light-induced interactions using optical near-field devices

Lee James O'Riordan

Supervisor:
Professor Thomas Busch

Research Unit:
Quantum Systems Unit

Thesis:
Non-equilibrium vortex dynamics in rapidly rotating Bose-Einstein condensates

Faisal Mahmood

Supervisor:
Professor Ulf Skoglund

Co-supervisor:
Professor Hiroaki Kitano

Research Unit:
Structural Cellular Biology Unit

Thesis:
Algorithmic and architectural developments for cryo-electron tomography

Märt Toots

Supervisor:
Professor Ulf Skoglund

Research Unit:
Structural Cellular Biology Unit

Thesis:
Exploring the potential of cryo-electron tomography on protein nanocrystals for molecular structure determination

Dongxin Zhang

Supervisor:
Professor Fujie Tanaka

Research Unit:
Chemistry and Chemical Bioengineering Unit

Thesis:
Amine catalyzed functionalization of enolizable ketones

Yi-Jyun Luo

Supervisor:
Professor Noriyuki Satoh

Research Unit:
Marine Genomics Unit

Thesis:
Insights into lophotrochozoan evolution and the origin of morphological novelties from brachiopod, phoronid, and nemertean genomes

Kenneth Baughman

Supervisor:
Professor Noriyuki Satoh

Research Unit:
Marine Genomics Unit

Thesis:
Decoding and analysis of the Crown-of-Thorns Starfish Acanthaster planci genome

Rico Pohle

Supervisor:
Professor Nic Shannon

Research Unit:
Theory of Quantum Matter Unit

Thesis:
Signatures of novel spin liquids in kagome-like lattices

Zafer Hawash

Supervisor:
Professor Yabing Qi

Research Unit:
Energy Materials and Surface Sciences Unit

Thesis:
Surface science studies of perovskite solar cells: spiro-MeOTAD hole transport material and perovskite absorber

Caroline Starzynski

Supervisor:
Professor Mitsuhiro Yanagida

Research Unit:
G0 Cell Unit

Thesis:
Investigating ancient metabolic reactions contributing to G0 quiescence survival in fission yeast S. pombe

Cong Liu

Supervisor:
Professor Evan Economo

Research Unit:
Biodiversity and Biocomplexity Unit

Thesis:
Understanding the ecological and evolutionary processes shaping ant biodiversity across spatiotemporal scales

Nino Espinas

Supervisor:
Professor Hidetoshi Saze

Co-supervisor:
Professor Ulf Skoglund

Research Unit:
Plant Epigenetics Unit

Thesis:
rCBP-dependent regulation in rice innate immunity

Keita Ikegami

Supervisor:
Professor Noriyuki Satoh

Research Unit:
Marine Genomics Unit

Thesis:
Comparative transcriptome analysis of basal deuterostomes and its implications for the phylotypic stage

Daisuke Takahashi

Supervisor:
Professor Hirotaka Sugawara

Co-supervisor:
Professor Shinobu Hikami

Research Unit:
Advanced Medical Instrumentation Unit

Thesis:
Minimal gauged U(1) extension of the Standard Model with classical scale invariance and phenomenology